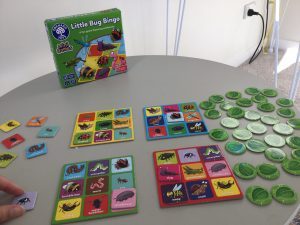 I love all the Orchard Toy Games….. I think my clinic has nearly all of them! They are great little educational games with heaps of Speech & Language goals. This is the latest edition to my clinic. Great for working on:
the 'l' sound – tricky for many of my kids. How about a 'lovely looking leaf'!
Clusters – these are 2 consonant sounds next to each other and is perhaps the most common speech goal with my 4 and 5 year olds. Check out the 'spider', 'snail', 'grasshopper', 'slug'.
Syllable marking – clapping out the syllables. Some tricky ones in this game…. 'cat..er..pill..ar', 'wa..ter….boat….man'. Great for phonological awareness and the development of speech and literacy.
Social Communication – taking turns and following the rules of the game. Not easy for children with social communication difficulties. Whilst participating in a shared game is intrinsic for many, some children need to be explicitly taught this skill. There is a lot involved…taking turns, eye contact, knowing their role in the game e.g. the bingo caller, reading non verbal cues. It is not easy for some children.
I love games which can incorporate lots of goals. Being able to adapt a game to a child's specific speech and language goals is something I love. It keeps sessions fun and dynamic. Some children make remarkably quick progress and having a few games and activities which can easily be adapted are a must in any Speech Therapy clinic!
speech@janesheffield.com